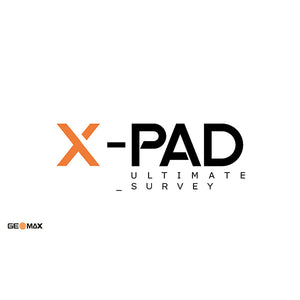 GeoMax X-PAD Ultimate Survey
With X-PAD Ultimate Survey, productivity and flexibility in the field is assured due to an easy user interface and to highly innovative contents.

In a single onboard software you find both GPS, Total Station survey and stakeout with all the topographic and cadastral functions that until now were present only on desktop softwares.

A sustainable… field software
Tired with field software with small characters, colored and hardly visible icons, buttons to hit in very small spaces, tiny virtual keyboards? Look at X-PAD … you can do everything with a single touch of your finger and reading is guaranteed due to large characters and high contrast icons. So simple to use you will think you are using your favourite smartphone!
CAD … you were missing

With optimized layout and smart functionality that works in the field X-PAD is a field CAD software designed for compact handheld devices. X-PAD gets the most from the available display space with innovative auto-hiding zoom buttons, automatic control avoiding the overlapping of points labels and contextual functions basing on the selected object. With X-PAD your notebook can remain in the office!
Surveying and drawing at the same time!
Are you thinking that surveying and obtaining automatically the drawing is a mere fantasy? Not with X-PAD: the innovative automatic drawing system by feature codes allows you to see the survey drawing composing point after point without requiring long and complex coding, only with practical buttons and default schemes. You must try it!
Compatible equipment

X-PAD Ultimate Survey ensures productivity in the field and provides perfect integration, even with data from different measuring instruments. This solution is compatible with the following devices:
| | |
| --- | --- |
| TPS | Zoom Series |
| GNSS | Zenith Series |
| Controller | Zenius + 3rd party Android devices |
| Locators | EziCATs |
| Laser distance meters | Refer to the compatible devices |
| Echosonders | Refer to the compatible devices |

Software specifications

Running on Android devices, X-PAD Ultimate Survey brings the best technology directly to the field and into your hands.
| | |
| --- | --- |
| Operating system | Android |
| Licencing system | Equipment ID |
| Services included | SHIELD and 1 Year X-PERT |
| Demo license | Available |
| Educational license | Available |
---
We Also Recommend