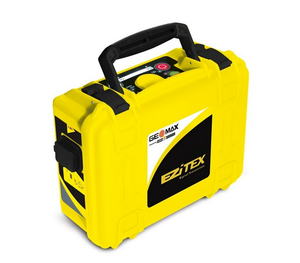 GeoMax EZiTEX t100xf Signal Generator
Weekly hire rate from: £15
Call our sales and hire team for details
_______________________________
Easily locate and trace buried utilities over greater distances

Every year site workers are injured and equipment damaged due to accidently striking buried cables and pipes. As the complexity of large underground networks continually increases, knowing the location of buried cables and pipes prior to excavation work has never been so important.


The GeoMax EZiTEX t100xf Signal Generator

The t300xf signal generator is compact, robust and easy to use. With four frequencies (8kHz, 33kHz, 512Hz & 640Hz) this transmitter has been designed for tracing buried utilities over long distances in conjunction with the EZiCATxf-Series and in areas of high signal interface. Produces 3Watt of power.

Highly durable & user-friendly
Unlike many signal generators, the EZiTEX range are robust and well-engineered offering IP65 protection (waterproof) and clever design features designed to protect your device. Innovations such as the simple, logical controls being on the outside of the case rather than the inside mean that the user doesn't have to open the case in the rain to change settings or connect accessories.

They may be compact and lightweight but these signal transmitters are built to take almost anything the modern building site can throw at them.

Four tracing frequencies
Most, if not all, signal generators have two modes emitting the most commonly used frequencies - 8khz and 33khz. These can be picked up by almost any signal generator. The xf range of CATs, however, emit two additional low frequencies (512hz and 640hz) that allow the user to trace signals over much greater distances than with a conventional signal transmitter.

Specifications:

Four adjustable power output levels – select the output for site – tracing conditions.
Durable weatherproof design – environmental protection rating of IP65. Robust, compact and lightweight design engineered for  tough site conditions.
Choice of 4 tracing signals - 512 Hz & 640 Hz for long distance tracing, 8 kHz for mid range distance and 33 kHz for everyday site use
Ease of use – default output frequency of 33 kHz power level 2.
Clear, audio visual controls –  externally mounted, displaying  the transmitters output condition.
In built test function – allowing operators to test the hardware and software functionality of the EZiTEX before use.
---
We Also Recommend