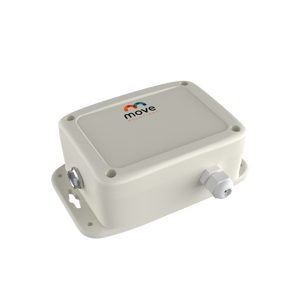 Single Channel Node [Communication Device]
Our Single Channel Node is a wireless data logger that makes geotechnical probes suited for LoRaWAN wireless communication. Each node supports one technical probe and the probe's internal NTC (when present). The Single Channel Node can be configured on our Move Cloud Platform: you can set different parameters remotely and monitor the data collected at any time. This new Node comes with increased battery life, a wider range of supported probes and a new accelerometer-triggered acquisition mode.
8 models for the widest possible compatibility
The Single Channel Node is available in 8 models, each one suited for a different kind of probe interface. Refer to this chart to choose the correct models for your needs.
| | |
| --- | --- |
|  INTERFACE | PRODUCT CODE |
| 4-20mA | DECKSCN-MA0 |
| mV/V DECKSCN-MVV | DECKSCN-MVV |
| Voltage (5 V) | DECKSCN-V05 |
| Voltage (12 V)  | DECKSCN-V12 |
| Vibrating Wire  | DECKSCN-VBW |
| Pt100-Pt1000  | DECKSCN-PT1 |
| NTC | DECKSCN-NTC |
| Potentiometer  | DECKSCN-POT |
APPLICATIONS

Geo-environmental Monitoring
Analyzing the displacement of the ground (settlement or lateral movement) and the stress-deformation state of the ground with inclinometer probes and vibrating ropes. You can also monitor all external atmospheric agents such as wind direction and speed, rain, humidity and temperature.

Hydrogeological Monitoring
With sensors such as piezometers, it is possible to monitor the level of groundwater and surface water and correlate it to the soil subsidence values.

Structural Monitoring
The use of crack meters allows you to keep a dangerous crack pattern under control. You can also monitor the stress-strain state of the structural elements using strain gages and correlating the data with the temperature.

Geotechnical Monitoring
By inserting load and pressure cells into the ground, it is possible to monitor both the pressures exerted by the ground and the distribution of loads on the foundations and their deformations.




Key Parameters:
LoRaWAN wireless communication for wired geotechnical sensors
Built-in long-life battery
Acquisition cadence to be set remotely
Two types of acquisition methods: programmed and triggered by unusual events
Each node supports the probe's internal NTC (except DECKSCN-PT1 and DECKSCN-NTC nodes)
Improved accuracy
Internal antenna
Small package (130×171.2×62 mm)
Deeply integrated with Move Solutions Cloud Platform
Easy installation with options suitable for every structure
Waterproof rating IP67
---
We Also Recommend