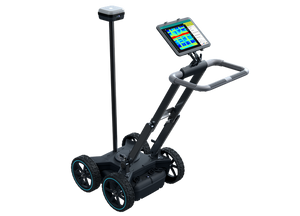 Proceq GS8000
Weekly hire rate from: £500
Call our sales and hire team for details
_______________________________
GS8000
The one solution for locating objects and mapping the underground world using SFCW ground penetrating radar technology.
Superior clarity of data, accurately geo-referenced
It adapts to different terrains and applications
Access to your data from anywhere, anytime
Applications:
Utility strike prevention / Subsurface utility engineering (SUE) / Asset inspection (bridges, asphalt) / Geophysical investigations / Archeology / Forensics
One device. Best-in-class resolution. Shallow and deep targets. Terrain agnostic. High-accuracy GNSS. Comprehensive for Experts. Intuitive for Starters.
Resolution & depth
Superior clarity of data at different depths thanks to the unique Swiss Made ultra-wideband radar technology, optimized for small, closely-spaced and deep targets alike.
Versatility
Scan on flat or rough terrains, get real-time accurate 3D positioning and adjust display settings in real-time for an optimal interpretation of data. All included in the solution.
User Experience
End-to-end workflows, all the way from the most intuitive data acquisition to instantly shareable deliverables. Access your data from anywhere, anytime.
---
We Also Recommend