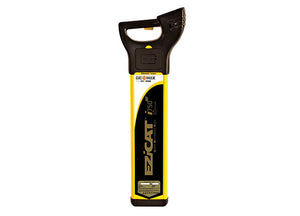 GeoMax Ezisystem i750xf Locator
$1,04100

$1,041.00

Save $577
---
---
Easily locate and trace buried utilities over greater distances

Every year site workers are injured and equipment damaged due to accidently striking buried cables and pipes. As the complexity of large underground networks continually increases, knowing the location of buried cables and pipes prior to excavation work has never been so important.

The GeoMax EZiCAT i750xf Cable Locator:
The EZiCAT i750xf is ideal to use before any excavation work to avoid striking a buried utility. This locator will increase your on-site safety, save you time, through the unique 'Automatic Pinpointing' feature, and save you money by reducing cable strikes.
You can use the locator to detect a number of different cables or pipes:

Electricity cables Data / telecomms cables.
Conductive pipes (including; steel, cast iron etc.)
Non-conductive pipes or cables (including; clay, concrete etc.) when used in conjunction with Cable Detection's accessories and/or EZiTEX xf-series signal transmitter to detect them.
Why Choose EZiCAT i750xf:

EZiCAT Intelligent Features - Automatic controls, making the EZiCAT easy to use, requiring minimal user training.
GPS Technology - Fully integrated GPS technology.
Data Logging - The locators start to record information every second after completion of the initial start-up routine. These records (logs) are stored in the locator's memory and can be retrieved and transferred via Bluetooth to a PC for analysis. The locators are capable of storing approximately 80 hours of records.
Bluetooth Wireless Connectivity - It allows the EZiCAT to integrate seamlessly with mobile mapping technology to log survey data, in addition to enabling wireless Bluetooth data transfer.
Service Depth Indication - Utility depth indication, when used in conjunction with the EZiTRACE or Sonde in 8 or 33 kHz modes. Operators can determine the depth of the buried utility, providing a clear advantage when conducting ground surveys.
Mode Lock - All xf locators start in the last mode of operation at maximum sensitivity to simplify the tracing process. Mode Lock is an operator defined setting.

512Hz and 640Hz Tracing Modes - Easily locates low frequency camera Sondes and services over a greater distances.

Starts in Power Mode - Ensures the most potentially dangerous current carrying services are detected first for maximum operator safety.

Auto Mode - Automatically locates power or radio signals, helping to confirm the presence of services upon initial site occupation making cable detection easier and safer!

Hazard Zone - Buried utilities close to the surface pose a significant safety risk to site works. The new Hazard Zone function provides an additional warning to the close proximity of buried services, alerting users to the immediate danger.

Pinpoint assist - Maintains the highest peak reading obtained on the signal strength indicator for a period of time, allowing the operator to quickly and accurately pinpoint the service position.

Signal Strength Indicator - SSI enables the user to trace an individual service amongst a multiple of services. The numeric display shows the highest reading over the service. This ensures the user can follow the service without straying onto another. The SSI mode can also be used to trace the Dual Frequency Sonde with ease.

Built-in test function - Allowing operators to test the hardware and software functionality of the EZiCAT before use.

Service Due indicator - Wrench icon displayed after 12 months.

Rechargeable Battery Option  -Offers the users an environmentally friendly, low cost, high performance alternative to secondary batteries such as alkaline.

UK Network Rail approved  -All xf products have been approved for use on Network Rail sites.

Highly visible digital LCD display  - with built-in light sensor, automatically enabling the backlight in dark conditions.

Robust, light weight design - EZiCAT i‐Series locators are specifically engineered for tough site conditions.

---
We Also Recommend