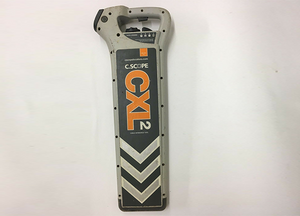 C Scope CXL2 Cable Locator
Weekly hire rate from: £15

Call our sales and hire team for details
C Scope CXL 2 cable detector with power, radio, genny and all scan modes. 
Information on the detection modes:
POWER mode identifies buried electricity cables by detecting the mains frequency signal travelling along the cable itself, when current is being drawn.
RADIO mode detects re-radiated Radio type signals that are often present on metal pipes and cables.
GENERATOR mode is used to detect the 33 131kHz signal applied to a a pipe or cable by a SGA2 or SGV2 Signal Generator. The combination of a high frequency with the 33kHz signal enables small diameter cables to be located more easily. The Generator mode should also be used when detecting the signal from a C.Scope Sonde when tracing in non metallic pipes such as plastic and clay.
ALLSCAN mode detects ALL frequencies of signal from the lowest of the Power signals right up to and including 33kHz. This mode can detect unusual signals appearing in the frequency gaps between conventional Power, Radio and Generator modes and is invaluable as a final check before excavation.
---
We Also Recommend